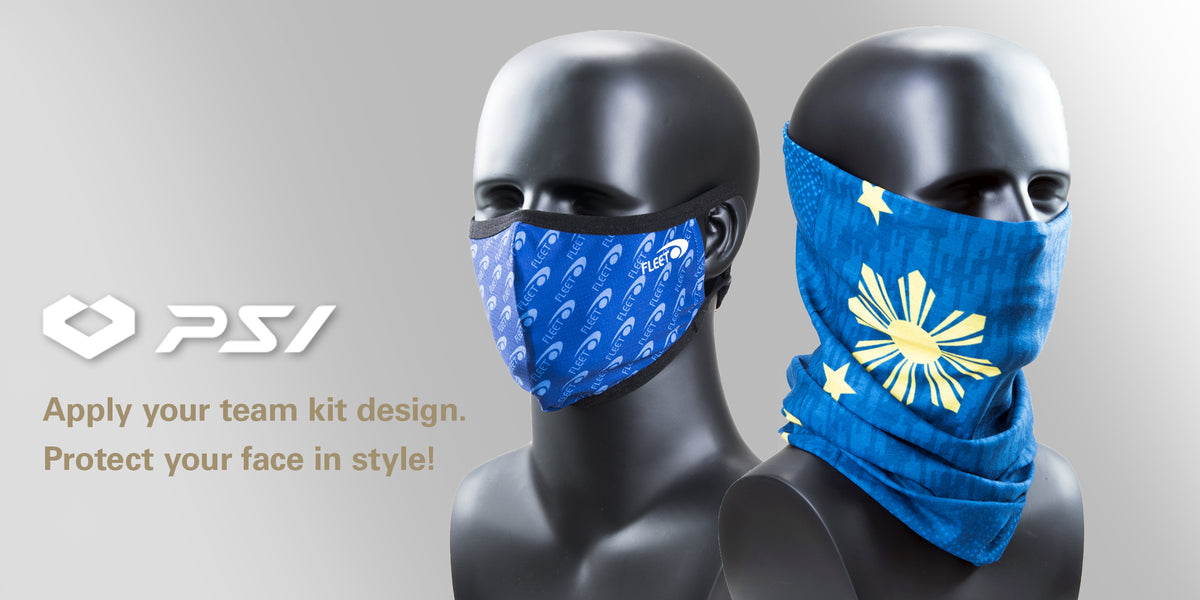 We are excited to introduce to our athletes and teams two new accessories that would help them to protect themselves, their friends, and family. It is essential to wear protective gear when traveling outdoor during the current pandemic situation. You may now apply your team design, corporate identity, or simply just the design you like on a reusable fabric mask and multi-purpose Flexie Bandana.
WHAT ARE THEY
The Face Mask kit comes with two reusable fabric masks, a pack of 10 pieces filter, and the wash instruction inside the package. It is better suited for daily uses.
Flexie Bandana can be used for different purposes. It is more suited for sports activities such as running and cycling.
THE FLEXIE
100% Polyester Coolmax fabric. 
Can be used as a Scarf, Headband, Bandana, Helmet lining, Skull Cap, and many more depending on your activity.

MOQ (minimum order quantity)

is 5 sets.
THE MASK
The mask uses two layers of our technical Ultralight2 fabric. You will also find opening inside for inserting the mask filter.  
Easy adjustable O-Ring attached to the ear strap for the best fitting 
Build-in adjustable wire at the center of the mask prevents fabric pressing against the face while breathing. 
Two sizes are available. Size L for general adult. Size M for women and junior.
MOQ (minimum order quantity) is 5 kits (10 masks). You may mix the sizes
THE FILTER
filter pack can be purchased separately later from our online retail store.
From our supplier's independent test, the filter average 88% blocking particle sizes 0.3µm (PM 0.3)
The filter is intended for one-time usage only. We strongly recommended changing your filter out on a daily basis when washed.
CARE INSTRUCTION
Machine or hand wash
Air dry is recommended or low-temperature tumble dry in the machine.
Avoid contacting rough surfaces such as velcro.
We recommend removing the O-ring and inner wire of the mask when washing the mask